The foundation of a successful veteran recruitment campaign is a strategy that makes sense for reaching your target audience. A recruitment campaign is not unlike any other kind of marketing campaign. You need to go to market with the right message, for the right audience at the right time. Two key elements of your strategy will be focusing on social recruiting and optimizing your application funnel.
Here are 3 vital components of a successful veteran recruitment campaign.
1.) Utilize the Right Platforms
It is more important than ever to reach your audience where they are. In other words, for a campaign to be successful, you must have a constant presence on the platforms that your audience is using. This means having a presence on more than just job boards and at career fairs. There is an overused (and now even more so) cliche which says, "work smarter, not harder." Companies have the ability to reach more of their intended audience than ever before, and their recruitment dollars don't have to work as hard as they used to.
Social media has become more than a way for people to communicate with each other. It has revolutionized the way companies attract talent. Social media platforms like Facebook have allowed companies to reach more passive candidates, or candidates who are not actively searching for a job but would be open to a career opportunity should the right one become available. In fact, the use of inbound marketing and reaching passive candidates is one of our top 5 recruiting trends to watch in 2019.
Here at VIQTORY we specialize in helping companies reach highly engaged candidates through social platforms like Facebook and Linkedin. By creating the right message for our clients' target audience, we are able to deliver relevant and compelling ads. Take a look at an example of an ad we ran as part of a campaign for Canadian Pacific.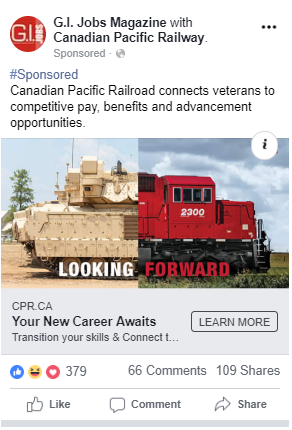 This ad is a look inside at one aspect of a successful veteran recruitment campaign. Canadian Pacific knows that our G.I. Jobs brand is one of the most trusted sources for career opportunities for military veterans. By delivering their messaging through our brand on Facebook, they developed their own brand within the military community. By targeting the right audience (we'll get to that in a bit) they were able to see some pretty remarkable results.
2.) Create a Consistent Employer Brand
Candidates have more research tools at their fingertips than ever before, and are doing more research on potential employers than ever before. According to LinkedIn, 75% of job seekers will do in-depth research of a company's brand before they consider applying for a position. So it makes sense that HR professionals are putting more of an emphasis on crafting and delivering a consistent employer brand throughout all of their campaigns and content.
From your company website to advertising your jobs posts, your employer brand should speak to the values your company has and the culture is has created. By doing this, you will attract not only the kinds of employees you need, but also the types of people you want in your organization.
Developing your employer brand is up to you, but VIQTORY can help ensure that your employer brand is consistent and speaks to your target audience.
3.) Customize Your Audience
We've established that you need to reach your audience where they are and deliver a consistent employer branding message, but WHO exactly is your target audience? By knowing exactly who to target, you can be sure that your messaging will be as effective as possible.
This is where VIQTORY really shines. We will help you craft your custom target audience based on the things you are looking for: skills, education, industry interests, military rank, location and many other factors.
The secret is our proprietary first party data. First party data can be defined as unique information you have gathered about your audience. For us, that data has been collected through more than 17 years of brand presence in the military community. VIQTORY offers one of the strongest military and veteran networks available.
We are able to use our first party data to help you define exactly who should be receiving your message, and intelligently target those potential candidates on their social platforms of choice. The result is highly engaged, qualified candidates coming right to you.
Learn more about how VIQTORY can help you succeed with your military veteran recruitment campaign!